12 novembre 2009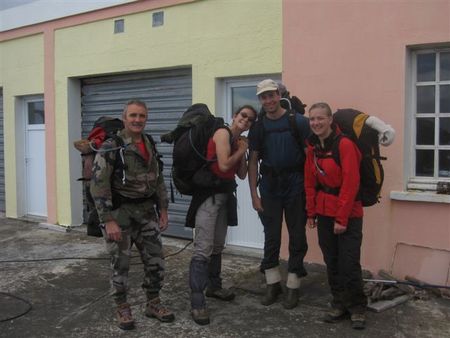 Seulement un mois depuis ma dernière visite à Entrecasteaux, mais deja une opportunité d'y retourner: je n'ai pas hésiter une minute! Cette fois je suis parti avec Hélène (une première après pourtant 11 mois partagés ici!) Patrick, le nouveau chef garage et bien sûr Cécile
Only one month since the last time i visited Entrecasteaux but i took the chance to go there again. This time, my fellows were Helene (first time for us even if we are here since 11 months!) Patrick the new guy in charge of the garage and of course, Cécile!
Vue depuis le pied de la Dives sur le Pignon, on peut voir mes caillebotis que l'on va emprunter.
View from the Dives on the Pignon. In light brown, you can see the road we sill take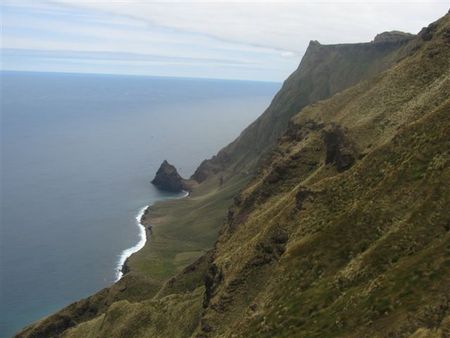 Vue sur Entrecasteaux depuis le Pignon
View on Entrecasteaux from the Pignon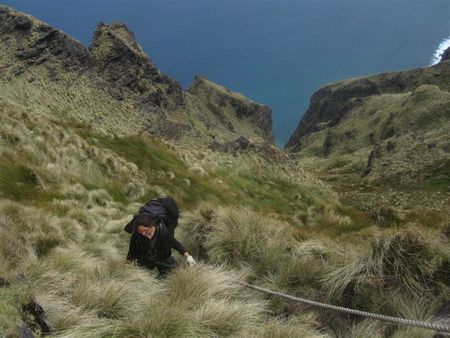 Après la "Salle a manger", on a une portion avec des main-courantes et c'est tout en bas dans le V que l'on descend!!!
After the "Salle a manger", there is a part with cords and we are going down to the V!!!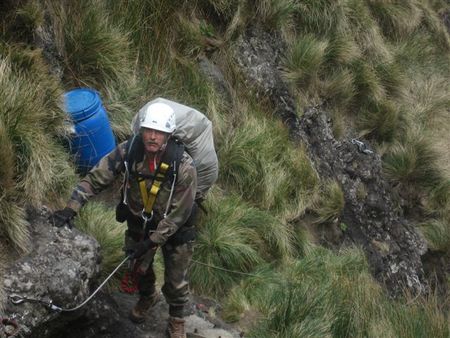 Patrick équipé pour amorcer la descente dans la portion de via ferata
Patrick, ready to start the climbing part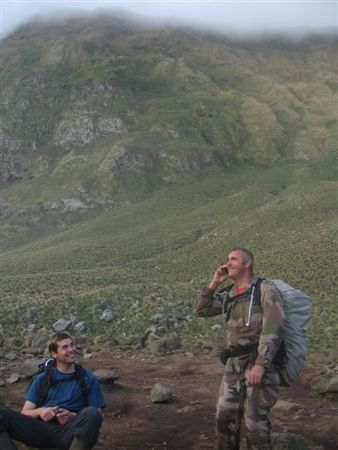 Non, c'est sur, même de se coté de l'ile, on ne capte pas de réseau!!!
That's now sure, even in Entrecasteaux, cell phones are not working!
Par rapport a ma dernière visite, la plage est rempli de gorfous qui remontent en file ininterrompu dans les colonies!
In comparison with last time, the beach is now crowded of penguins going to their colony
Enfin, la cabane!!
At least, the refuge!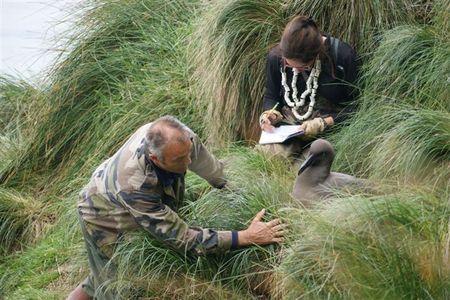 Une partie de la manipe consite a faire un suivi sur les albatros fuligineux (fuli) Un certains nombre de nids sont suivi et on doit aller identifier les partenaires qui sont en train de couver. Les parents se relaient tous les environ 5 jours.
One task we have to do is to check the nest of sooty albatrosses (SOAL) Some nests are studied and we had to control the identity of the partner on the egg. Parents change every 5 days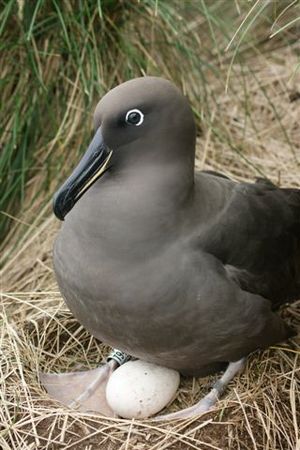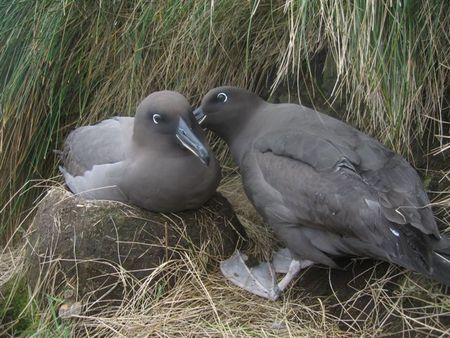 On a pu assister a une relève: un des partenaires est revenu de la peche et apres quelques gentillesses avec son partenaire (c'est tout un progrmme!) ils finissent par echanger et le 2eme peut aller se nourrir.
I could see the partners changing: one was back of fishing and after few softness, caress etc... they finaly exchange their place, the 2nd going now to fish.
C'est en ce moment egalement la période de couve pour les albatros a bec jeaune
It's also the period for the yellow nosed albatrosses (YNAL) to have eggs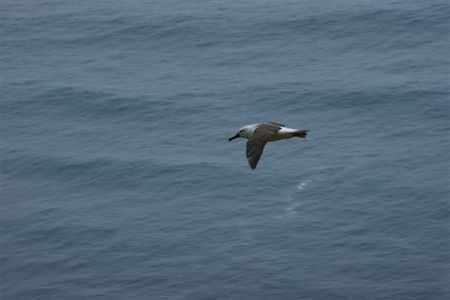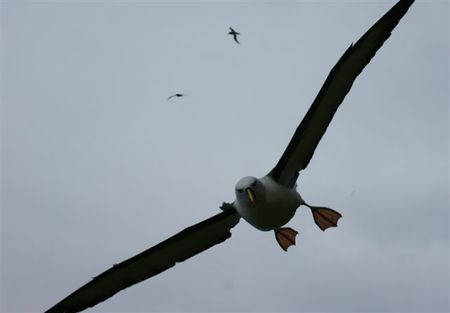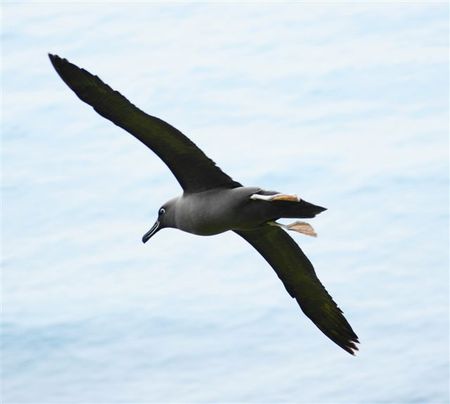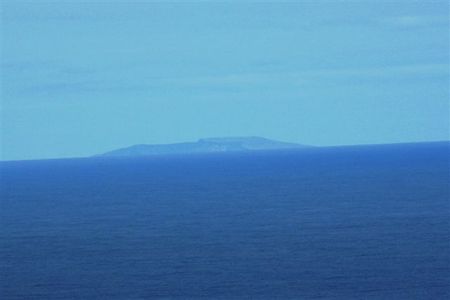 Grâce a une météo particulièrement favorable, on a pu voir depuis les colonies de fuli St Paul!!! L'ile qui est a 80km de distance est la seule terre a l'horizon, et ce n'est que la deuxième fois que je peux l'observer ici!!
Très perturbant, on a l'impression de ne plus être seul au bout du monde!!!
Thanks to a very nice weather we could see St Paul island from the SOAL colonies!!! The island is 80km far away and is the only island in the neighbourhood. It's only the 2nd time i can observe it!
It's very disturbing, for one moment you don't feel alone in the far side of the world anymore!!!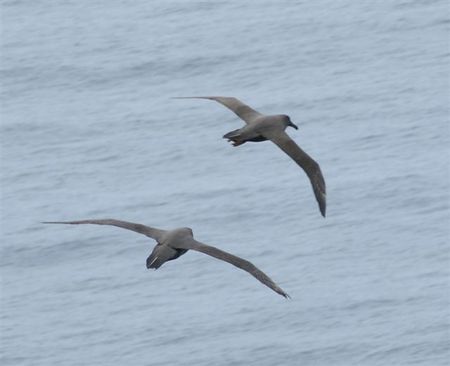 Tous les albatros sont des planeurs: ils se servent des courant aériens pour voler et ne battent que très rarement des ailes. Petite particularité des fulis: leur parade amoureuse ne se passe pas qu'a terre mais aussi en vol où ils se suivent de très prêt.
Albatrosses use very rarely their wings, using the wind. Particularity of the SOAL: their love parade is not only on earth but also in the air. They fly together, always very close.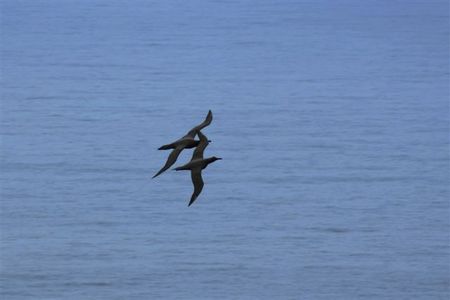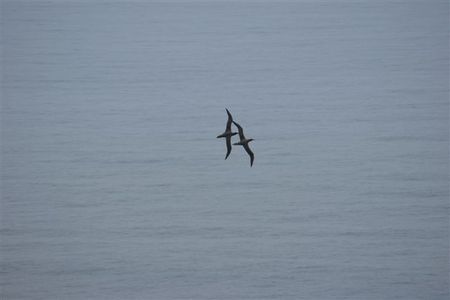 A suivre: le 2eme jour et la manipe sur les gorofus
Next: the 2nd day and the work on the penguins.
Commentaires sur Quoi de neuf a Entrecasteaux? 1/2 - What's up in Entrecasteaux 1/2