Après de longs mois d'absence, l'Austral, le pêcheur de langouste est de retour dans les eaux d'Amsterdam. Il avait a son bord trois chasseurs venus pour la régulation du troupeau de vaches, des vivres, notamment des bananes et des ananas. On n'en avait pas vu depuis notre arrivée!!! Il avait également a son bord du courrier pour le plus grand plaisir des hivernants!
La population sur base est donc passée de 20 à 23 hivernants.
After a long time away, he Austral, the boat fishing lobster is back. He brought us 3 hunters to "take care" of the cows. They brought us also food like bananas and pineapple. The last cae with us, 1 year ago! They were also some mail on bord, news from far away of relatives or friends.
We are now 23 on base!!!
Débarquement des vivres et du courrier
Welcome guys, food and mail!!!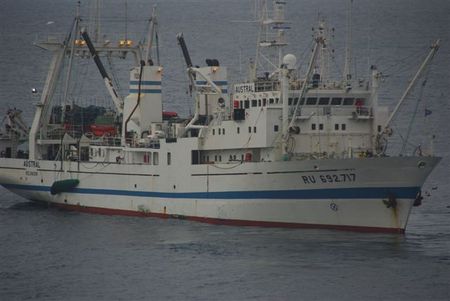 Pour le moment, l'Austral pêche du poisson seulement: palangre dans les grands fonds ou de quoi faire des appâts pour les casiers a langouste. La saison de la langouste ne commence que début décembre.
For the moment, the Austral catch only fishes: deep in the sea or close to the shore. The lobster season is only starting in December.